Search engine control for ASP.NET web developers.
Supports ASP.NET 4+, 3, 2.5, 2.0.
High performance index based search engine.
Auto complete & document preview (AJAX based).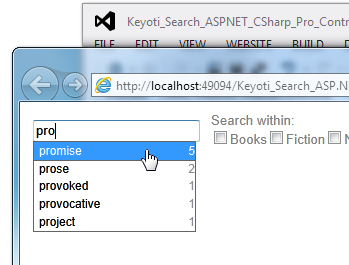 Meet business requirements, quickly and easily
Offering search functionality on web-sites or within business applications plays an essential role in meeting customer demands. Whether it's using a search strategy to help visitors locate the products they are looking for, or helping enterprise application users find keywords in documents on the file-system, you will find our Search products play a vital role within your apps.
A completely open API allows developers to work closely with the search behavior, the search templates allow for easy customization and a plugin architecture enables you to extend search even further.
Help users locate what matters
Search engines provide users with the tools they need to locate the information that matters the most to them. Whether the information is held in a database, on a webpage or buried deep in a document - Keyoti's search components identify the most relevant search results and present them to the end user quickly and efficiently.
About | Contact | Site Map | Privacy Policy
Copyright © 2002- Keyoti Inc.