Supports Silverlight & Windows Phone
Small Application Footprint
Multiple Languages Supported
Open API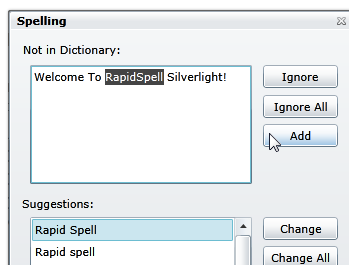 Why use Silverlight
The Microsoft Silverlight framework empowers web developers to build cross-browser, cross-platform and highly interactive internet applications, running from a single environment. Keyoti's Silverlight control allows users to add a powerful and customizable spell checker to Silverlight and Windows Phone apps.
Minimal Footprint
To be fully optimized for the web environment, Silverlight software needs to be light-weight - the RapidSpell Silverlight DLL and English dictionary combined, weigh-in at just 570KB - minimizing the application footprint while still providing optimal user experience.
Full Framework Support
Support for Silverlight versions 3, 4, 5 and Windows Phone 7.
About | Contact | Site Map | Privacy Policy
Copyright © 2002- Keyoti Inc.