Adds Spell Checking to Windows Forms Apps.
Supports all Visual Studio editions inc. 2012
Supports Microsoft .NET CLR v4, v2 & v1
No royalty or runtime fees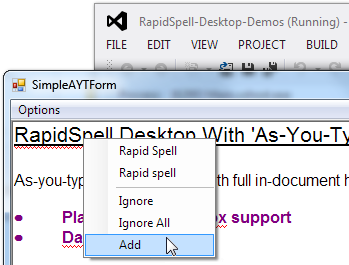 Add a Thesaurus to your desktop software
60k terms with synonyms, antonyms and related words.
Supports 3rd party controls.
Developer only licensing - no other fees to pay.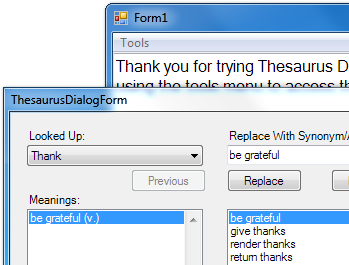 Keyoti .NET Desktop Controls
With over 10 years of experience creating .NET desktop controls, Keyoti know that Win Form developers demand fast, reliable and feature-rich components that meet the high-standards of their end-users.
Complete .NET CLR Support
RapidSpell Desktop .NET supports .NET 4 (Full and Client profile), .NET 3.5, 3.0, 2.0 and 1.0.
Visual Studio 2012 and earlier releases are all supported.
Demo Applications
After installing our Windows Forms products, developers will find a number of C# and VB.NET demo projects as well as examples of 3rd Party integration with our components.
License Yourself
Licensing for our Windows Forms products is based only on the number of developers working with control. Once you're licensed, you can distribute your software application to any number of end-users, with no run-time royalties or fees to pay.
Free Technical Support
Keyoti develop for developers – as such we know the value of having technical queries answered in minutes, not days. Bug fixes patched the same day. License enquiries answered immediately. We're here from 8am to 4pm+ (PST) Monday to Friday – just drop us an email, you may be surprised how fast you get a response.
Customer Reviews
Keyoti is 100% customer focused, over the years we've taken customer feedback and concentrated on evolving our .NET products to the highest level possible. These are just some recent comments from previous customers;