The most mature .NET Win Forms
spell checker
RapidSpell Desktop .NET for WinForms was first released over 12 years ago, it has been refined by thousands of real world customer experiences to produce the current version, 5. As you type, user options, dialog mode, auto correct - it's all there, and stable!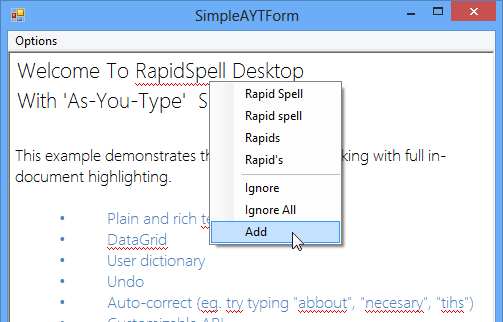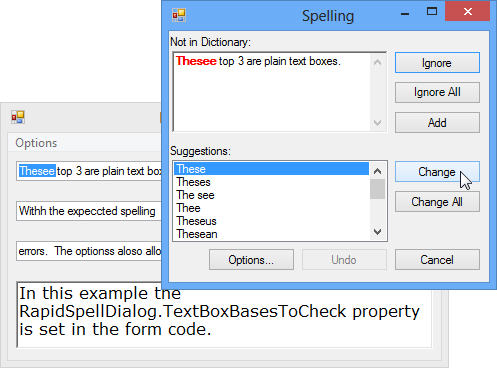 No compromises, fit it into your app, with your style
Customizable UI and behavior - our open API lets you quickly add spell checking the way you want it.
Quality dictionaries
Our best, in-house sculpted dictionaries are a cut above the rest who often use open source dictionaries. Four English language variants and 17 extra dictionaries including medical and legal. All dictionaries are customizable.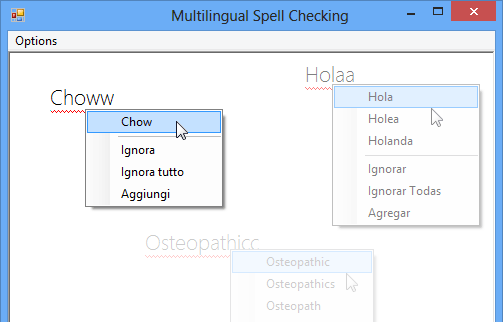 Never say never
We can't turn customers away, so we support everything: DLLs built against all .NET versions, ClickOnce, String checking etc. Let us know what you want.
Play ball with a variety of other Controls
Other .NET Win Forms vendors have spell checkers yet their customers come to us, and RapidSpell works with those controls ( "TX Text Control", DevExpress "XtraGrid" & "MemoExEdit" and Janus' "GridEX" & "EditBox") in addition to the standard TextBox, RichTextBox, DataGrid and DataGridView.

Questions? Need Help?
We're happy to help:


About | Contact | Site Map | Privacy Policy
Copyright © 2002- Keyoti Inc.